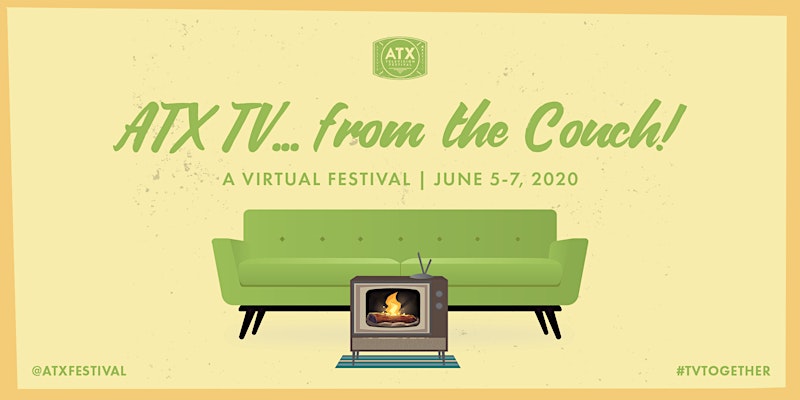 Here's everything you need to know about the world of television for Thursday, May 14th, 2020. I'm writing this from the Twin Cities, where AllYourScreens HQ is powered by root beer.

THE ATX TV FESTIVAL GOES VIRTUAL
In recent years, Austin's ATX Television Festival has become the premiere event for TV fans and industry professionals. When the festival decided to make this year's festival virtual back in April, it wasn't clear what the event would look like or if it would even happen at all.

Early Thursday morning event organizers announced the lineup for this year's ATX TV Festival, which will run June 5th – 7th, with every event streaming for free on YouTube. 

Freeform's "The Bold Type" will showcase an early look at the premiere episode, debuting June 11, followed by a panel with showrunner/executive producer Wendy Straker-Hauser and various cast members. There will be a virtual "Scrubs" reunion, a "Cougar Town" retrospective panel as well as the cast of NBC's "New Amsterdam" hosting a conversation about "using fiction to navigate important conversations about health and healthcare access in underserved communities, and how recent storylines around heart health and rural & urban hospital care are particularly relevant." Other panels and events will be announced soon.

The sessions will be free to watch, but there will be links for viewers to donate to several COVID-19-related charities.

Click here to register for the free event ahead of time.

ANOTHER NIGHT OF FINALES
One of the many side effects of the Coronavirus shutting down production in Hollywood is that many existing shows were forced to wrap their seasons long before it was planned. Two more broadcast television shows air their finales tonight, although they all are ending their seasons in mid-story. So tune into tonight to see how they handle things on "Katy Keene" and "Station 19." "How To Get Away With Murder" is airing its series finale, but apparently that show had already wrapped production before the COVID-19 outbreak.



Here is a rundown of the new shows premiering today....

1) Cooped Up Series Premiere (Crackle)
After coming into contact with a potentially fatal virus, a bitter semi-professional wrestler is forced to isolate himself in his childhood home for 21 days. His only contact with the outside world is through the doctor who checks daily on his symptoms.

2) National Theatre At Home: Barber Shop Chronicles (YouTube)
Newsroom, political platform, local hotspot, confession box, preacher-pulpit and football stadium. For generations, African men have gathered in barber shops to discuss the world. These are places where the banter can be barbed and the truth is always telling. Following two sell-out runs at the National Theatre, a world tour, and a hugely successful summer residency at London's Roundhouse, Inua Ellams' acclaimed Barber Shop Chronicles is now available to watch through National Theatre at Home.

3) Restaurant Impossible Season Premiere (Food)
After investing $200,000 and losing $4,000 a month, Pastor Andrew has lost hope of turning things around for his home-style restaurant Loyd Have Mercy in Titusville, Fla. It's up to Robert Irvine to help Andrew rediscover his passion and his self-confidence, or his restaurant will be shutting its doors forever.

4) Tempted By Danger (Lifetime)
Sisters, Nicole (Gabrielle Graham) and Angela (Keshia Knight Pulliam) Brooks, are highly driven and successful in their careers. Angela is married with a baby on the way and wishes Nicole, a rising attorney, could have more balance in her life. When Angela interviews and hires a new bright executive, Michael (Michael Xavier), she sets him up with Nicole who actually makes time to date him. The relationship seems promising until it becomes clear that Michael is moving much more quickly and obsessively than Nicole can handle.

5) The Misery Index Season Premiere (TBS)
Inspired by the card game Sh*t Happens, The Misery Index features teams competing against each other by attempting to rate hilarious and miserable real-life events based on the "misery index," a ranking system created by a team of psychologists. This season will feature special themed episodes including dueling grandmothers, a visit from one of The Tenderloins' family members, and a showdown between motherlands.

6) Yum & Yummer Season Premiere (Cooking)
It's all about the best of the best as Eddie Jackson tracks down the yummiest, most satisfying and most decadent foods, dishes and cuisines around the world. In tonight's premiere, Eddie Jackson shares hot and spicy dishes that give a little sweet, a little savory and a whole lot of spice.

For a rundown of all the new episodes of television premiering tonight, click here.

TOO MUCH TV REALLY IS A THING
This newsletter is called "Too Much TV" because....well, it's hard to keep track of all the new television premiering everyday. To help you prioritize your viewing, click here to see our list of more than 400 upcoming television premieres, movies and finales. You'll find listings from more than 70 networks, as well as streaming services and web shows.

If you'd like to get this daily feature as an email, subscribe to our free daily "Too Much TV" newsletter here.

I'll be back with another one tomorrow. If you have any feedback, send it along to This email address is being protected from spambots. You need JavaScript enabled to view it. and follow me on Twitter @aysrick.