The impact of COVID-19 on Hollywood is still somewhat limited. But if you want to see one possibility for what might happen in the future, you only need to look at what went on in the South Korean television industry this week.

The expanding scope of the coronavirus outbreak in South Korea has forced a number of Korean television shows to halt production or limit the cast & crew's interaction with the public. Reality TV shows shot outside a studio such as "Wanna Be Singer," "Do You Know Hip Hop?" have temporarily shut down production. Some shows with a live audience such as "Comedy Big League" and "Mr. Trot" have closed their productions to the public.

Warner Music Delays IPO Over Coronavirus Fears
Warner Music Group's IPO was supposed to start rolling out this week – but the company has delayed its flotation in the US due to market turbulence caused by fears surrounding the spread of the Coronavirus.

WMG was set to share target price ranges for its public debut this week, as well as starting formal meetings with potential IPO investors Monday (March 2nd).

However, according to CNBC, Warner's IPO plans have been put on ice while it waits out the negative effects on the stock market caused by Coronavirus panic.

Facebook Pulls Out Of South By Southwest
Facebook is the latest company to pull out Austin's SXSW conference, following a similar move by Twitter. "Due to concerns related to coronavirus, our company and employees will not be participating in SXSW this year," said Facebook spokesperson Joe Osborne in a statement.

A Change.org petition asking SXSW organizers to cancel this year's event has received 28,000 signatures since it launched last week.

CNN Restricting Employee Travel Amid Coronavirus Outbreak
Warner Media chairman Jeff Zucker said in a memo on Monday that employees of CNN and other networks would be limited in their travel between continents to cases in which there is a "most necessary, business-critical need" amid a worldwide outbreak of the deadly coronavirus.

"We will work to be sure that our staffing needs are met, but limit any participants that are not absolutely critical to getting our content out or meeting basic revenue-generating needs," Zucker wrote. "Some of this can be determined simply by using good judgment, and we encourage you to consider your travel with that in mind."

Wolf Parade Cancels Tour, Citing Coronavirus Concerns
Canadian rock group Wolf Parade tweeted a statement on their Twitter account on Monday announcing they were canceling European and U.K. dates for the tour supporting their latest album, "Thin Mind." Wolf Parade's first show of the trek was set to take place Monday evening in The Netherlands.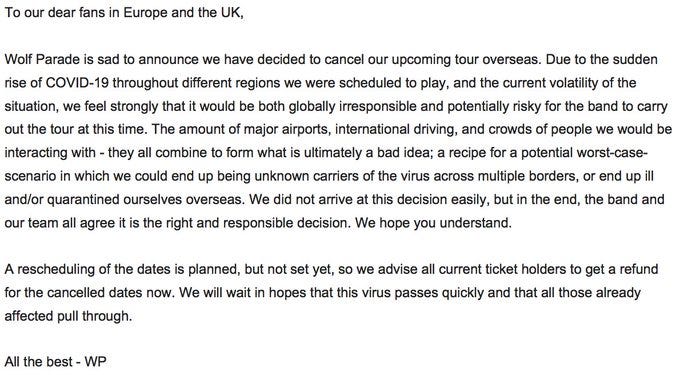 Odds And Sods
The debut edition of dance music festival Ultra Abu Dhabi has been cancelled as concerns about the Coronavirus outbreak continue to grow in the UAE. Originally slated to take place on March 5th-6th at the largest open-air venue in the region, du Arena on Yas Island. The lineup was set to include Afrojack, Major Lazer, Cirez D, and Zedd.

While CBS has halted production on the current season of "The Amazing Race," it appears the upcoming season of the Australian version of the show will continue as planned. In a radio interview, show host Beau Ryan said that while the show had already changed the route for the upcoming season twice to avoid countries in Asia, the season would be produced. If need be, said Ryan, they could produce an entire season strictly within Australia.