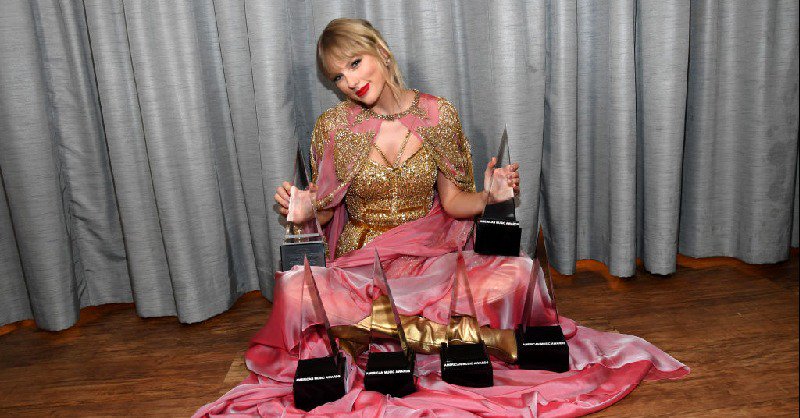 Here's everything you need to know about the world of television for Monday, November 25th, 2019. I'm writing this from the Twin Cities, where AllYourScreens HQ is finally recovering after being sick for a week.  Oh good, I'm even more behind on TV I need to watch.

TAYLOR SWIFT DOMINATES THE "AMERICAN MUSIC AWARDS'
She won six awards during the broadcast show, including artist of the year. She also was honored as artist of the decade, which had been announced before the broadcast. That's really all the attention the show deserves, but click here to see a complete list of the winners.
ANOTHER DAY, ANOTHER FAULTY STREAMING SURVEY
Streaming television - particularly Netflix - inspires more bad hot takes and misleading survey results than just about any segment of the entertainment industry. This week's lousy survey de jour comes from the web site KillTheCableBill.com, which reports they questioned more than 1,000 people who have canceled Netflix since April about why they dropped the service:

In the second quarter of 2019, Netflix reported its first loss of domestic paid subscribers since 2011. Perhaps most troubling for Netflix is it seems to be driving away its most loyal customers. Our survey found the vast majority of customers who canceled service in recent months had been subscribed for more than a year. The next largest group of recent ex-subscribers was made up of those who had been using the service for 7 to 12 months. In fact, the smallest group of recent cancelers, at just 7%, was free trial users.

Of course, this survey has been used to fuel all sorts of misleading headlines over the past few days. And nearly every story ignores the numerous factual problems with the story. First of all, there's no way to put this in context. Reporting customer behavior for one fixed period may or may not be indicative of a trend. There's no way to know whether prices are having a bigger impact on the decision to cancel Netflix without knowing why customers were making the same decision a year ago.

The bigger problem is the way the data was collected. The web site mentions the results were collected by "an unaffiliated third-party data analytics firm to survey over 1,000 customers." Sounds legit, huh?

But this is the disclaimer buried at the bottom of the piece:

Participant source: Amazon Mechanical Turk, only previous Netflix subscribers who canceled their subscriptions since April 1, 2019.

Sample size: 1,005

Sample details: Only US participants. Our sample has an appropriate distribution across age categories for streaming video users and representative gender distribution with 48% female and 52% male respondents. The fastest 5% of the sample were removed before analysis to ensure data quality (as they may have sped through without paying attention) resulting in a final sample size of N=1,005. Only mturk participants with a 99% or higher approval rating were permitted to take the survey.

Confidence Level: 95%; 3% margin of error

Amazon's Mturk is a service that pays participants a small fee per task performed. There's no way to know if the answers were truthful. In fact, given that the participants were getting paid to complete it, there's a strong incentive to just answer in a way that seems likely to allow you to get paid. And based on that, I'm not sure how the web site decided the survey had a "confidence level of 95%."

I'm all in favor of more transparency in the streaming media business and we certainly need more data if we have any hopes of reporting on the industry. But this survey is just junk science.

It's another slow day of premieres, but things pick up later in the week.

1) Balthazar Series Premiere (Acorn)
One of the 10 highest-rated dramas in France in 2018, this acclaimed series stars popular actor, director and comic Tomer Sisley as Raphaël Balthazar, a handsome, intelligent and quick-witted forensic pathologist in Paris who can make the dead speak like no one else to help solve investigations of the city's most disturbing crimes, but is also irreverent, mischievous and lives his life in firm defiance of norms and conventions. This presents a major challenge for new, no-nonsense police commander HeìleÌne Bach, who must collaborate with him on these complicated cases.

2) Check Inn To Christmas (Hallmark)
When New York City lawyer Julia Crawley (Rachel Boston) returns to her Rocky Mountain hometown and her family's lovely inn for the holidays, she finds herself at the center of a generations-old feud with the family that runs the town's other inn. As the ongoing competition between the two inns escalates, "forbidden" romance blossoms between Julia and Ryan Mason (Wes Brown), whose family runs the inn that is her family's big competitor.
3) College Behind Bars (PBS)
The four-part documentary film series, directed by award-winning filmmaker Lynn Novick, produced by Sarah Botstein, and executive produced by Ken Burns, explores the transformative power of education through the eyes of incarcerated men and women trying to earn college degrees. Shot over four years in maximum and medium security prisons in New York State, the series examines America's failure to provide meaningful rehabilitation for the over two million men and women living behind bars.

4) Wrap Battle Series Battle (Freeform)
This new holiday gift-wrapping competition series will follow nine contestants as they battle to become the ultimate wrapper and take home the coveted grand prize, valued at $50,000. The series will be hosted by comedian Sheryl Underwood, with Carson Kressley and Wanda Wen (founder of fine stationery and luxury paper brand Soolip) serving as judges. Celebrity guest judges will include Tony Award-winning Broadway producer Candy Spelling, Sandra Lee, Sherry Cola ("Good Trouble"), Diggy Simmons ("grown-ish"), Lala Kent ("Vanderpump Rules") and designer Sabrina Soto.

For a rundown of all the new episodes of television premiering tonight, click here.

TOO MUCH TV REALLY IS A THING
This newsletter is called "Too Much TV" because....well, it's hard to keep track of all the new television premiering everyday. To help you prioritize your viewing, click here to see our list of more than 400 upcoming television premieres, movies and finales. You'll find listings from more than 70 networks, as well as streaming services and web shows.

And if you're a glutton for punishment (or just want to know what you've missed), check out this list of all the shows that have premiered so far in 2019.

If you'd like to get this daily feature as an email, subscribe to our free daily "Too Much TV" newsletter here.

I'll be back with another one tomorrow. If you have any feedback, send it along to This email address is being protected from spambots. You need JavaScript enabled to view it. and follow me on Twitter @aysrick.